Sacramento Vintage Ford
-Back In The Day-

Day One - November 1, 1969
Darold, Lynn & Mike (our General Manager in training)
---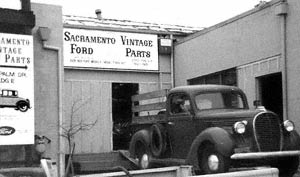 1969 - Corrugated metal building in the alley behind the Army-Navy store
in Carmichael. Near the corner of Palm Drive and Marconi Avenue .
1975 - Moved out of the alley to the front of the building on Palm Drive.
.......we had windows!
---
(still looking for a photo)
-above- We relocated to El Camino Avenue near the I-80 freeway
---
1986 - We built our very own 17,000 s.f. building at
4675 Aldona Lane, just off of Auburn Blvd and the
Business 80 freeway in Sacramento.
It was HUGE and we would NEVER outgrow it and
NEVER have to move again!
---

2001 - Our current location at 2484 Mercantile Drive - 70,000 s.f.
---
The Article:
There was a time when Darold Kohout had a job that everybody could understand and appreciate. After all, working in the grocery business is a job that is solid and responsible. And it's a job everyone assumes comes with a paycheck.
Then, Kohout bought a Model A as a second family car, at the urging of his wife, Lynnette.
Afterwards, when people asked him what he did for a living, "I told them that I sold parts for old Ford's," Kohout recalled. It was almost always followed with another question, usually from people who wondered why he wasn't destitute. "What else do you do?"
These days, and for the last four decades, selling parts for Model A's and other older
Fords is exactly what Darold, Lynnette, and their daughter Susan and son Mike,
have been doing for a living.
"We're a Mom and Pop operation," Darold Kohout said. While it is a family-run operation, Sacramento Vintage Ford, located about 20 miles down the freeway from California's
State Capitol building, is much more than a tiny counter with a few fan belts stacked
on shelves. At 70,000 square feet, it is larger than many of the grocery stores where Kohout made his living years ago.
Every wall looks like a gallery, with neon and memorabilia competing for space.
Some displays are more museum pieces than showcases for parts. The 1950s-inspired diner and gift shop bring the doo-wop era alive so much that you could expect girls
in poodle skirts and saddle shoes to stop by at any moment.
World famous hot rods come and go on display like loaner cars.

Much More Than a Parts Store.............................CLICK on the photo below
to read the complete article by Bill Sessa courtesy HotRod and Restoration Magazine.
Lynn, Darold and Mike Kohout



2015 will be our 16th season of Vintage Friday's Car Shows and Events!
(click above)